Study Abroad Business Analytics – Enroll in college of your choice
Study Abroad Business Analytics. Business Analytics deals in data management that allows businesses to use statistical technologies and methods to analyze data to improve decision-making and gain new insights in desired areas.  Basically, it is all about businesses being able to make data-driven decisions that are smarter and more accurate.  Businesses deeply rely on data analyzation because their growth depends on making the right decision.  This is why the job of a business analyst is considered one of the most lucrative jobs.
Completing your business analytics course from abroad can add an extra star to your resume.  With many respected colleges around the globe, offering degrees in business analytics, you can have access to world class education. Here is a brief study abroad guide that will help you gain an understanding about studying business analytics, abroad.
General Eligibility Requirements for Business Analytics
Undergraduates require their Higher Secondary School Certificate if they wish to enroll for a Bachelor's degree in business analytics
Graduates looking to pursue Masters should have a Bachelor's degree in Business Analytics from a recognized college or university

 

English language efficiency tests may include IELTS (International English Language Testing System) or TOEFL (Test of English as a Foreign Language).  The qualifying criteria for these tests may be different for each country and college or university.

 
Core Components of Business Analytics
Business analytics uses various methods, including statistical analysis, predictive analysis and data mining, to analyse data and transmute it to valuable information, anticipate and identify trends and make smarter business decisions.  You can Study Abroad Business Analytics and pursue Bachelor's and/or Master's degree in business analytics.  Completing masters from abroad will boost your qualifications and career too.  The main components of business analytics include:
Data Mining
Data Aggregation
Association and Sequence Identification

 

Predictive Analytics
Text Mining
Forecasting
Data Visualization
Optimization
Those undertaking the course of business analytics from any college in abroad must attend all lectures or classes give their assessments through projects, online/offline examinations, presentations, etc. 
Careers in Business Analytics
Once you have completed your studies in business analytics, there are many interesting job roles that you may be offered in an organization.  Although you can begin working immediately after a Bachelor's degree, the pay scale and the level of seniority increases automatically when you hold a Master's degree in this field.  Depending on the subjects you specialize in, you may be offered the below job roles:
Data Scientist – uses machine learning to create predictive algorithms

 

Data Architect – visualizes and designs enterprise framework of data management for a business
Business Analyst – creates visualizations and creates Application Programming Interface consumption.

 

Data Administrator – integrates new or external datasets
These are the major job roles that aspirants assume, but there can be other positions that they may get, including market research analyst, data management analyst, operations research analyst etc. 
Best Places to Study Abroad – Business Analytics
Business analytics is an important subject and there are several countries that have colleges and universities that have it in their course programs.  However, there are some countries that excel in this field and are popular choices amongst students. Some best countries to Study Abroad Business Analytics include:
Canada
United Kingdom

 

United States of America
Australia
Germany
Suggested Colleges/Universities to Study Business Analytics
MIT Sloan School of Management, USA
Imperial College Business School, UK
University of Melbourne, Australia

 

University of Edinburgh Business School, UK
Centennial College, Canada
Rady School of Management (University of California), USA
LaTrobe University, Australia
Massey University, New Zealand
RMIT University, Australia

 

University of Texas, USA

 
There are some colleges that offer combined Bachelor's and Master's degree, such as Driehaus College of Business &Kellstadt Graduate School of Business (DePaul) located in Chicago, USA. Even University of Florida, USA offers a combined Bachelor's and Master's degree in business analytics. 
So, are you excited and ready ?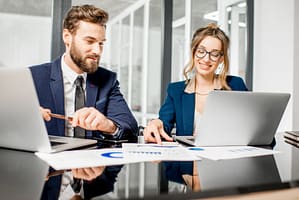 So, are you thinking to Study Abroad Business Analytics to pursue your Business Analytics degree and career ?  Get in touch with a good study abroad consultant as we can set you in the right direction.  We help solve visa application rejection issues by guiding you with the laws, rules, and regulations of your destination country for your study abroad.  With our guidance and a good counselor to assist, you will be able to successfully enroll in your choice of college and pursue your studies abroad.
In fact, as our motto says, "With you, from beginning to end".   We secure your confirmation of enrolment, we assist you with the difficulties of the visa process.  Our engagement with you does not stop there : we follow your progress during your entire educational journey, and we are there to assist you again with your post-study goals, including your Permanent Residency and up to your acquisition of a new citizenship.