Study Accounting Abroad to Pursue a Career in Accounting
Study Accounting Abroad! If you have a passion for finance and are looking to pursue a career in the corporate world, then Accounting is perfect for you.  Accounting is the core of any business, and good accountants are always in demand.  Students aspiring to take up accounting as their career need to focus, study well and complete their degree from an eminent college/university to get into high-paying jobs.  You can boost your qualifications by pursuing your studies abroad, in a world-class institution. 
As a student, you must be a quick learner and must be willing to devote extra hours towards your studies because there are many subjects involved that cover a lot of content.  Here is a quick guide on Accounting that will help you on your study abroad journey.
Educational Requirement to Study Accounting Abroad
Those who study Accounting should not only demonstrate a flair for maths and business, but should also have an interest in law and economics.  As part of the course, students will be expected to learn the legal requirements regarding taxation and monetary policy, as well as acquiring knowledge of different financial transactions.
Both undergraduates and postgraduate accounting courses are available in colleges and universities. The structure of the course usually depends on the type of course you choose to undergo. 
Undergraduate courses mostly last for 3 years.  During this period of time, may be expected to enroll for work placements at various stages of your course.  Once you complete your undergraduate courses, you can study further for post graduate degrees.  Applicants must have a strong hold over their subjects, including business, economics and mathematics. 
All students aspiring to Study Accounting Abroad should be fluent in English.  If you do not have English as your native language or have not had English as your medium of study at school, then you are required to undergo the standard English language tests applicable in the country in which you are seeking admission in.
The most popular English language examinations include:
IELTS or International English Language Testing System
TOEFL or Test of English as a Foreign Language
Cambridge English Language Assessment

 
Every college has their set standard eligibility marks that you must meet vis-a-vis English proficiency and academic qualifications.
As an accounting student undergoing a program in college or university, you must regularly attend lectures and give your assessments in the form of written examinations and written projects, some of which are done in groups.  You will also have to work in companies for practical experience in the accounting subjects that you are studying, often as an intern.
What Types of Job Can You Get?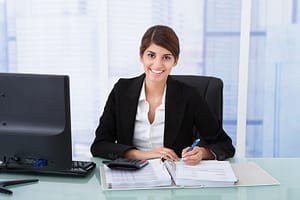 The profession offers a high-level of job security and is considered prestigious too. Depending on the subjects you specialize in and the accounting course undertaken, broadly speaking, you may be able to get the job of an auditor, financial accountant, financial analyst, management accountant, or tax accountant.  Completing your accounting course through study abroad programs adds an extra spark to your resume, making way to more lucrative and higher-paying jobs. 
Best Countries to Study Accounting Abroad?
There are several prestigious colleges and universities that offer accounting courses to students.  You can pursue your higher educational journey in any college that that best fits your qualifications and your budget – we can recommend the best match for you.  Some countries that are most renowned for accounting courses include:
Canada

 

UK
New Zealand
Australia
USA
Singapore
Ireland
Germany

 
With so many respected colleges spread across the world, it is difficult to know which one to chose.  We represent over 200 universities, most are ranked in the top 500 in the world,  which excel in their own way.  Check out your eligibility to study abroad by completing 5 simple questions, and we will help your select the best one for you, based on your qualifications, budget and aspiration.
Conclusion
If you wish to Study Accounting Abroad, then you must get in touch with a reliable study abroad consultant.  Our counsellors are extremely helpful and can guide you in the best way to apply for the visa of the country where they wish to study. 
As our motto says, we are
"With you, from Beginning to End"
!