Study MBA Abroad
An MBA or Master of Business Administration degree is considered to be one of the best pathways towards lucrative career options.  Aspiring students across the globe look forward to Study MBA Abroad in reputed colleges.  Under MBA, students are taught about finance, economics, marketing and many more disciplines.  It is a versatile degree which sets you up for a successful career.  There are several countries where you can pursue your abroad educational journey in MBA, including USA, New Zealand, UK, Australia and Canada where potential MBA students flock to enroll themselves to complete their degree.  Here is a student guide to study abroad, which gives you a rough idea about how you should prepare yourself. 
General MBA Requirements 
Admission Requirements for an MBA degree include:
A Bachelor's degree
A certificate in English language to meet the minimum language requirements – knowledge of an additional foreign language is an added benefit

 

At least 2 to 3 years of working experience (full time)
GRE, GMAT or/and cleared the admission test set by the university/college that you are applying in

 

Personal Statement and Resume (not applicable in all countries)
These are some general requirements for applying for Study MBA Abroad Programs. The requirements may be more or less, depending on the country and college that you are applying for. 
There are several business schools and universities where successful professional accomplishments are more appreciated and respected that your total work experience. If potential MBA students think they have performed tremendously well or achieved extraordinary goals when working and they are confident about it, then they should go ahead and apply for the degree even if they haven't completed the full span of work years' experience as desired by the college.  Sometimes, the admission board also considers internships, but mostly these experiences are simply taken into account – the more relevant work experiences you have, the better.  
English Examinations
TOEFL (Test of English as a Foreign Language) – This test measures all the four academic skills of English – reading, writing, speaking and listening.

 

There is an internet-based test (iBT) and a paper-based test.
IELTS (International English Language Testing System)
PTE – Pearson Test of English
Best Universities to Enrol MBA
There are good business schools and universities that are well-established and offer great career opportunities once you successfully complete your degree.
Columbia University, USA
Melbourne Business School, Australia
Stanford University, USA
University of Toronto, Canada
University of British Columbia, Canada
University of Otago Business School, New Zealand (they provide online MBA also)
The University of Auckland Business School, New Zealand
University of Canterbury, New Zealand
London Business School, UK
University of Cambridge, UK
Syllabus of MBA
MBA is vast and covers several subjects that are further categorized and sub-categorized. Generally, most business schools cover the core subjects in the first year and in the second year, the students are allowed to choose a specialization. The subjects covered in an MBA syllabus include:
Finance
Accounting
Economics
Marketing

 

Operations Management

 

Entrepreneurship

 
Some topics covered are:
Business Strategy Simulation Games
Strategic Management

 

SWOT and PEST Analysis
BCG Growth Share Matrix
BE McKinsey Matrix
Core Competencies
Porter's Five Forces Analysis
MECE Framework McKinsey
Management Consulting

 

Horizontal and Vertical Integration Strategy

 
Career Prospects
Holding an MBA degree demonstrates ambition, ability and business administration skills. You develop leadership and people management skills that are essential for running any business successfully.  Besides this, there are several more skills that a MBA holder develops while completing their course. 
Completing MBA from a good business school or university, especially from abroad, opens up a world of opportunities.  Depending on the subjects that you have specialized in, you can make your career as:
Business Consultant

 

Account Executive
Business Development Manager
Finance Manager
Sales and Marketing Manager
Industry Specialist Manager
Operations Manager
Program or Product Manager
So, are you excited and ready ?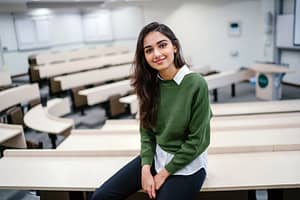 The above is a brief introduction to this exciting area of study.  If you really want to Study MBA Abroad, you should approach a reliable study abroad consultant.  They are professionals and experienced in assisting with visa applications.  For a smooth experience in your higher educational journey, ensure that you hire the best counselor for study abroad.  At Lawand Education, we guide you through the selection of the best program to match your qualifications, aspirations, and budget.  In fact, as our motto says, "With you, from beginning to end".   We secure your confirmation of enrolment, we assist you with the difficulties of the visa process.  Our engagement with you does not stop there : we follow your progress during your entire educational journey, and we are there to assist you again with your post-study goals, including your Permanent Residency and up to your acquisition of a new citizenship.