On your study abroad journey, there are many hurdles that you have to clear, even before you leave home.  These steps are vital, not only to commence your journey for building your future, but to set yourself up on the right tracks – this is so important !
So you have selected your study program.  You have received your confirmation of enrolment at your preferred university.  You have secured your student visa.  Congratulations… you're well on your way to commence your journey !!
Don't neglect your accommodation
One important step to do : get yourself suitable accomodation, BEFORE you travel.  Travelling to a new country, new culture, new environment, can be daunting.  The smart student is the one who has pre-arranged accommodation : it is so much more comforting to know that, upon arrival at your destination, you will have your accommodation already sorted out.
Chose your accommodation wisely
One of the most important considerations when you select your study destination, is the cost of living.  Accommodation is typically the largest component.  On our website's university page, we give an indication about accommodation cost for that particular university.
Let's say you are going to Australia, to study MBA at LaTrobe University in Melbourne.  You can check out indicative pricing here in the Accommodation section. 
We make it easier for you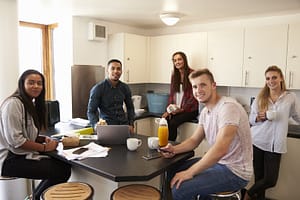 But we know you want to do some research to narrow down your options, right ?  So, here is an excellent tool to help you out with searching for the right accommodation.  This online tool allows you to search for accommodation specifically for LaTrobe university.  Cool, right ?
At Lawand Education, we teamed up with a world-leader in student accommodation.  Our accommodation partner has already done a lot of the homework for you : they have inspected many properties, and only selected the ones that tick all the boxes, such as location, pest control, safety and security, water supply, power supply, internet supply, insulation and climate control, etc.  Often, the accommodation is furnished, so our partner has checked that the appliances are in good order, and has suitable furnishings and fittings to make your stay as comfortable as possible.
Start looking well in advance, so you don't miss on any quality options as most accommodations get occupied four to eight weeks prior to the semester orientation date. We suggest to start looking for accommodation options once you receive your student visa.  By booking here (our accommodation page), you will be able to access a fantastic online service, for free : you will not pay any service fees, aside from the applicable payment transaction charges, and of course your accommodation costs.  
Check out our FREE student accommodation page
Once you land on our student accommodation page, you will have FREE access to our accommodation partner, where you can explore and discover from a range of accomodation options. Choose the best option for yourself, all according to your needs.  If you are not satisfied with the listings given on the website, they will find you an apartment according to your preferences.  Their expert property consultants will help you with additional details you need regarding the property and surrounding area. The website will also include details regarding the rent, deposit and application fee involved in the leasing process.  Be sure to check out any exclusive special offers our partner may have – these are shown on their website.
It is a powerful, yet easy to use, tool
Once you finalise your choice of accommodation, they will start the paperwork for you.  Paperwork involves the signing of your lease agreement etc.  Property managers require your bank statement to make sure you have the sufficient funds to pay for your stay.  It may involve payment for the first month rent and other charges like one time application fees.
Here's a good tip !
Our partner's booking executives can arrange a viewing session for you.  All you need to do is place a viewing request on their website, and their booking executive would arrange skype or a walk-in viewing for you.
Peace of mind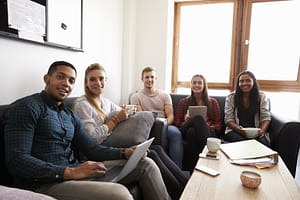 So, you have successfully booked your apartment.  You have the peace of mind that an integral part of your study abroad experience has been completed.  Now you can sit back and prepare for your journey.  Start by reviewing your orientation documentation, and read up on what you have to do in your first month abroad.
As our motto says, we are "With you, from Beginning to End" !