You want to become a Permanent Resident via Study Abroad Canada ?  Excellent idea and well done on your ambitious aspiration !
Ok, so in this blog Study Abroad Canada, I will not be talking about Canada's amazing geography and physical beauty. I will not be talking about its vastness (second largest country after Russia) and expansive wilderness. I will not be talking about Canada's history and successes on the world stage.
Rather, I want to talk about what's important to YOU : how you can make your new home, via study abroad in Canada.
First, let me remind you of why Canada is ideal to make it your new home.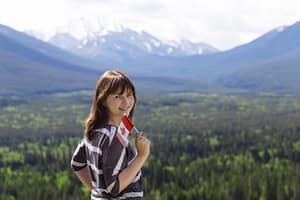 Canada ranked #1 country in the world for Quality of Life !
What do you think of when you hear Quality of Life (QoL) ? Good supply of food and housing ? Quality education ? Affordable health care ? Sustainable employment ? For your information, QoL also includes intangibles such as job security, individual freedom, political stability, and environmental quality.  Social scientists agree that material wealth is not the most important factor in assessing a life lived well.
Well, Canada received this highly-prized rank, #1 country in the world in 2020 for Quality of Life (for the fifth consecutive year !), in a study conducted by UN News & World Report, based on "75 different metrics".  According to the study, Canada placed number 1 for its :
safe environment
political stability
Not bad, right ?
Now, let me talk about how you can make it your new home via Study Abroad in Canada.
Canada is one of a number of highly sought after countries (see my other articles about Australia, New Zealand, and USA) by aspiring people who want to make a new life for themselves and their family.  Currently, the Canadian government is looking for good people who want to become Canadian – so, why don't you ride Canada's migration wave ?
There are multiple ways to make Canada your new home. I want to talk about one particular way of how you can make that happen : by coming to Canada as a student – Study Abroad Canada !
To come to Canada, even as a tourist, you must have a valid visa.  Every type of visa has requirements.  Some are more difficult than others.  For a student permit, there are a number of requirements and steps that you must meet and pass before your student visa is issued to you by the Immigration, Refugees and Citizenship Canada (IRCC).  We can help you get an offer in your preferred field of study.  We also have a very high success rate in helping you get your student visa to legally come to Canada – click here to check your eligibility.
Good news !
Here's some more really good news !  Once we have helped you come to Canada as a student, and you have successfully completed your study program, you will have an excellent opportunity to transition from international student status to permanent resident status.  This type of transition into permanent residency is trending strongly upwards (see below chart), and it is in line with Canada's desire to increase its population.  Sounds really good, right ?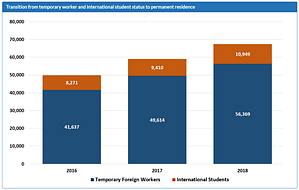 So, how you can make this transition from international student status to permanent resident status ?  Ok, once you graduate from your Canadian bachelor, master, or doctoral program of studies, you will be able to temporarily work in Canada.  To work in Canada after your graduation, you will need a work permit. This is where we can help you also : we can guide you in the steps to help you transition from student visa to permanent residence.   We have already successfully helped many students achieve their dream of becoming Canadian.  What about you ?
Are you ready ?
If, after reading the above, you have a strong desire to pursue this pathway to become Canadian, get in touch !  We will give you a FREE assessment to evaluate whether you are eligible to become an international student in Canada.
So, if you answer YES to any of these points below :
I have just finished high school and I am looking for a bachelor program; or

I already have a bachelor degree, and am keen to pursue a masters program; or

I am interested in a specific topic for doctoral purposes
AND you want to check your options to study abroad Canada, then get in touch with us now by clicking here !  We will help you navigate through the process and guide you to a better future.
This could be the BEST decision you'll ever make for YOUR future !  Go ahead, you have nothing to lose and everything to gain – click here now !